Wild & Natural Handcrafted Soaps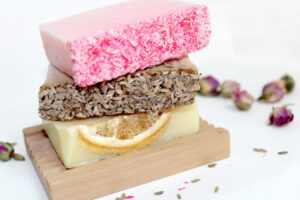 Our wonderful range of Wild & Natural handcrafted soaps which are made only from the highest quality natural ingredients and are created using the melt and pour method.
Here you can discover a host of evocative fragrances and tactile textures.
There isn't anything like a pampering natural soap that smells delicious, to help break up the monotony of your everyday morning routine.
These skin-nourishing and moisturising soaps offer a magnificent long-lasting lather and will leave your skin soft & supple, feeling clean, moisturised and healthy.
They are an excellent way to treat yourself with something special, so why not soothe your skin with lovely, natural hand-made soap.
These soaps are sold by slices or loaves.
Each soap slice is sold wrapped in waxed paper with a label and ingredients and weighs approximately 115g.
The loaf is shrink-wrapped with an outer label containing the list of ingredients and product information and weights approximately 1.3 kg
Showing 1–20 of 22 results