Tropical Paradise Soaps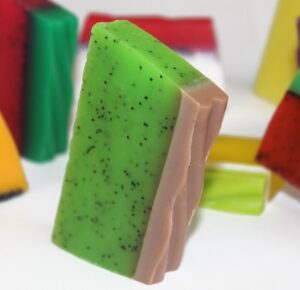 These exotic soaps have beautifully bright and complementing colours and amazing scents that will have you picturing yourself in the tropical climate of exotic paradise surrounded by lush greenery, coral reefs and beautiful lagoons.
They have amazingly sweet and zesty fragrances of exotic fruits and will thrill anyone, who is a lover of tropical dreaming for sure.
Take the cleansing to the next level with these beautiful exotic soap bars and let your body and soul feel nourished and moisturised.
These soaps are handmade and we have a variety of Dragon Fruit, Papaya, Pomelo, Mangosteen, Pineapple, Kiwi, Watermelon and Strawberry.
Each loaf weighs approximately 1.3 kg and slices 115g.
Showing all 8 results